Has live music become irrelevant because of the playlists on your smartphone?
No, quite the contrary.
Let's investigate how much music fits into the world's smallest performing space; Berlin's last existing telephone booths. Analog meets acoustic, nostalgia meets the contemporary. Enjoy the trip.
Visit our older sista with synthetic music for dancing, the Teledisko:
http://www.teledisko.com/
Have a look at these people recording international musicians in Berlin's staircases:
http://www.stairsberlin.com/11628864
Episode 15 – we proudly present Jawad Salkhordeh
Let's start with an ear-opening experience: According to our initial question, how much music would fit into a telephone booth, for the drum, this question is moot because it's eager for space and refuses to be contained. The drum wants to send out its deep sound waves, to allure everyone around, to waken that ancient creature inscribed in our human substance. So, for this recording session, the door of the telephone booth had to be opened to allow the drum to mingle with the sonic environment of crows, singing birds, sounds of blossoming trees, an airplane passing over. You could also put it this way: The drum was eager to welcome the dawn of spring, which has turned into summer by now.
This telephone booth has been converted into a neighborhood library, like the one in our Episode 4. It's located in the district of Berlin-Neukölln, on a playground, surrounded by rabbit hutches, pig pens, swings, other diverse playground fixtures and a domesticated beehive.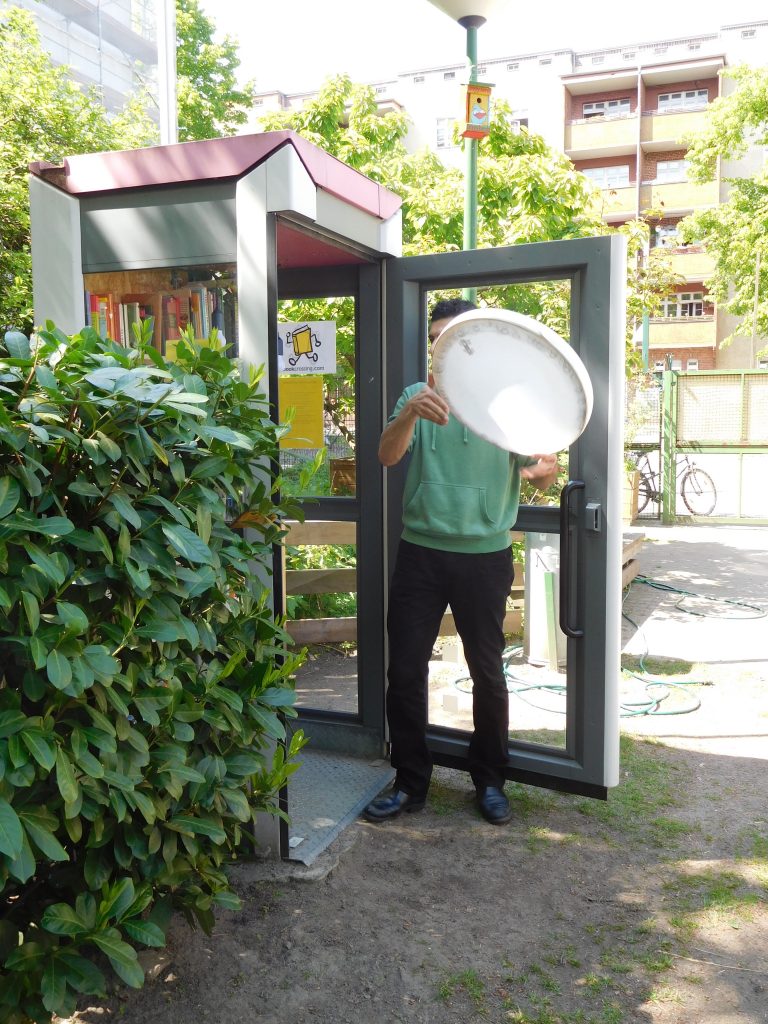 Jawad Salkhordeh is a percussionist from Qaemshahr in northern Iran, not far from the Caspian Sea, in the province of Mazandaran. He started playing music as a child, together with his uncle, Abdolhasan Khoshroo. Khoshroo is a master singer and player of the Laleva (flute) and a prominent figure in the Folk Music from the province Mazandaran. As a teenager, Salkhordeh picked up the Tombak by accident for a school event. It has been his main instrument ever since but he also perfected his playing skills on Daf, Duff, Udu an various other percussion instruments. Salkhordeh also plays the Setar, a Persian long-necked lute. To develop the social aspect of drums in society, he currently attends an advanced course in Music Therapy.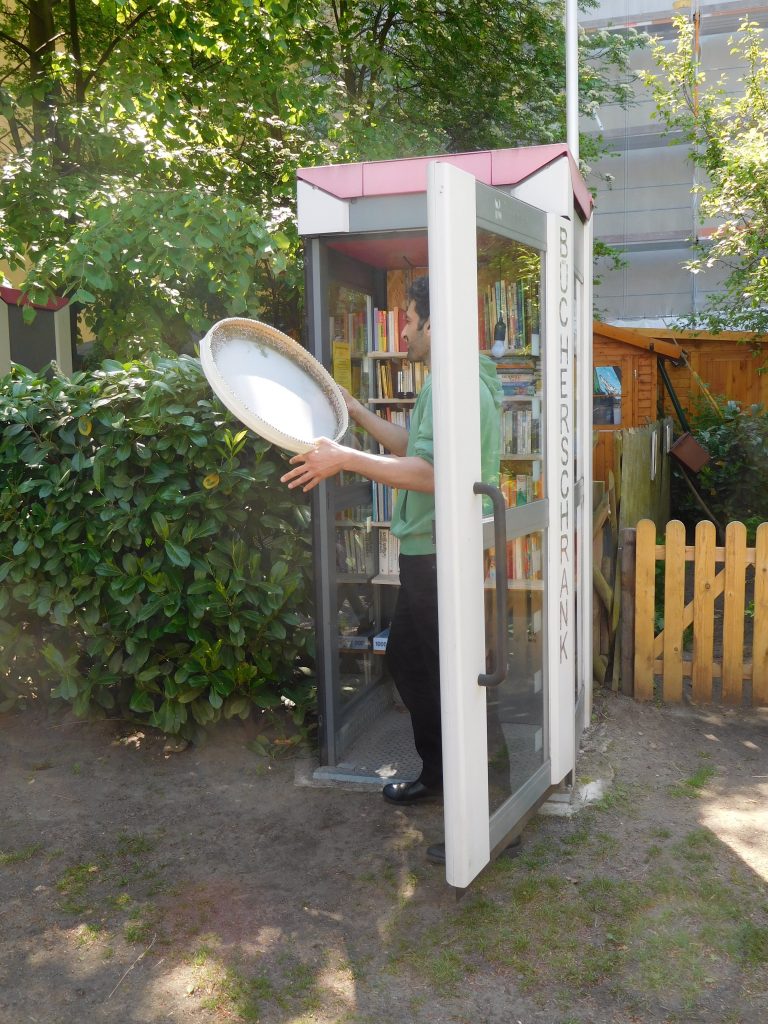 You might also like to listen to Jawad Salkhordeh playing Tombak in our episode 13:
People who he has played with include the Syrian Oud player Nabil Arbaain, he has also shared the stage with the choreographer Modjgan Hashemian.
Salkhordeh is a member of the Trio Moj, together with the Setar and Tar player Mohammad Reza Alizadeh and Pouya Khoshravesh, who plays Oud and Kamancheh. Because they all are from Mazandaran, they play Persian Classical Music and Folk Music from Northern Iran.
In 2016, Salkordeh founded the Duo Safar together with the drummer Jacob Przemus.
You can see them in the busking areas at Rudolstadt Festival on July 7th.
Episode 16: clarinet, June 9th