Has live music become irrelevant because of the playlists on your smartphone?
No, quite the contrary.
Let's investigate how much music fits into the world's smallest performing space; Berlin's last existing telephone booths. Analog meets acoustic, nostalgia meets the contemporary. Enjoy the trip.
Visit our older sista with synthetic music for dancing, the Teledisko:
http://www.teledisko.com/
Have a look at these people recording international musicians in Berlin's staircases:
http://www.stairsberlin.com/11628864
Episode 15 – we proudly present Edith Steyer
She plays her interpretation of Nobody Knows You When You're Down and Out by Jimmy Cox, immortalized by Bessie Smith.
Edith Steyer is a saxophone and clarinet player who is very involved in the Berlin improvised music scene.
Half a year ago she founded a new trio together with the drummer Jorgos Dimitriadis and the trombonist Matthias Müller. They recently recorded an album consisting of freely improvised music and short pieces that move Steyers compositions into the multilayered biotope of interaction beyond any limits. The album of Trio Magos is expected to be released in the fall.
Steyer recently took part in two theater projects. The first, a performance with the Ensemble "Mann Aus Obst" directed by Maja von Kriegstein, collectively developed the play "Schuld und Bühne" (Blame and Stage) about aspects of religion and ritual. During the working process, Steyer confronted her personal background in Catholicism. Although she seceded from the Church, she now can relate to the strong Marian devotion of her Slovenian grandmother. Steyer's father is a semi-professional trumpet player from Slovenia with whom she used to play Oberkrainer music; the traditional folk music from the Slovenian region around the districts of Kranj and Ljubljana.
The other theater project Steyer participates in is a music and dance performance about the role of women in mythologies of creation. The restaging of Creations will be performed again on June 29th at Neu West Berlin.
Performers will include Steyer, the bass player Horst Nonnenmacher, the vocalist Eutália de Carvalho, Sofia Borges on percussion and Rieko Okuda playing keys.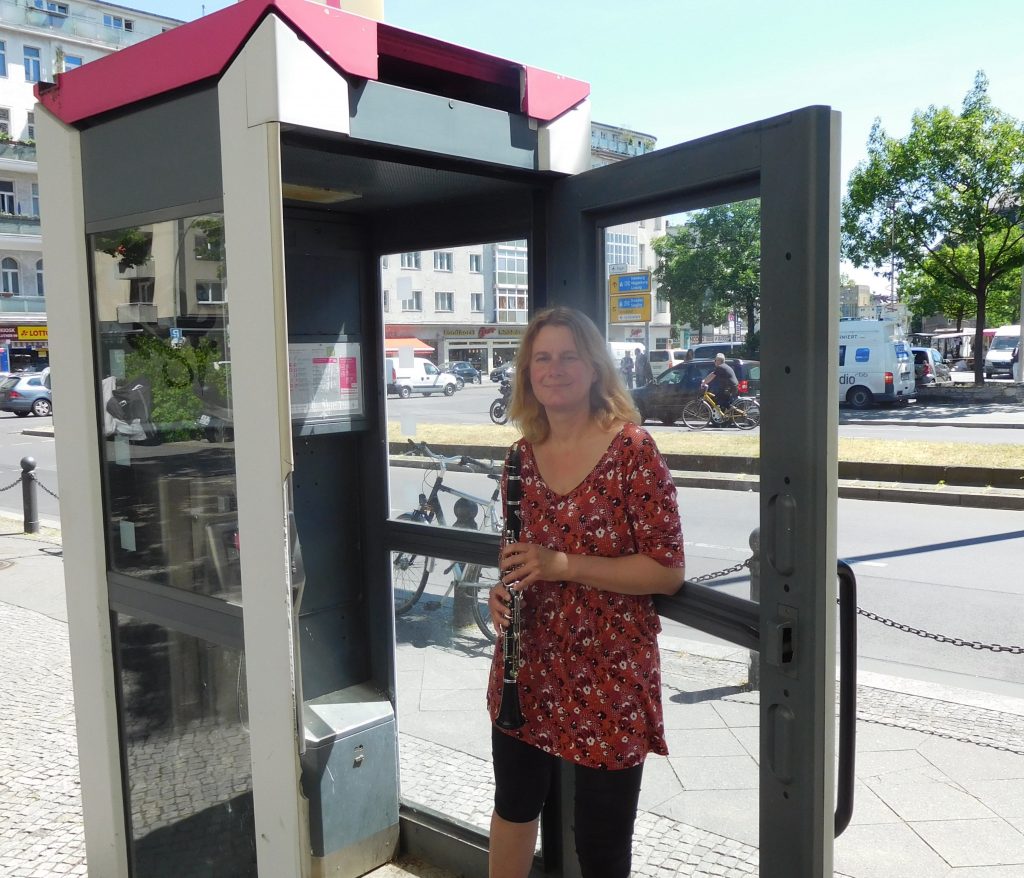 Together with the vocal artist Marialuisa Capurso, Steyer recently enjoyed being two of 80 improvising musicians who met at the Mia Festival in Portugal in May. Capurso also pursues her project "Rural Tableau", which combines her field recordings in Portuguese forests with graphic scores and a video-installation. She, Steyer and the bass player Antti Virtaranta will recreate this setting at their upcoming performance on August 23rd at the festival "Jazz und Mehr", which takes place on the wonderful island of Hiddensee.
As if that weren't enough, Steyer recently founded the trio Vollmund together with Korhan Erel – electronics and the drummer Adrian Krok. Using the culinary sounds associated with cooking and eating, they freely improvise about food. Get a little taste during their next performance at Neu West Berlin, June 24th.
Episode 16: duff, June 16th