We're happy to announce the first Berlin concert of Brazilian vocalist Grazie Wirtti with Matias Arriazu from Argentina on 8-string guitar.
Premiered in Germany by Johanna Bock.
Proudly presented at Salon am Moritzplatz in Berlin.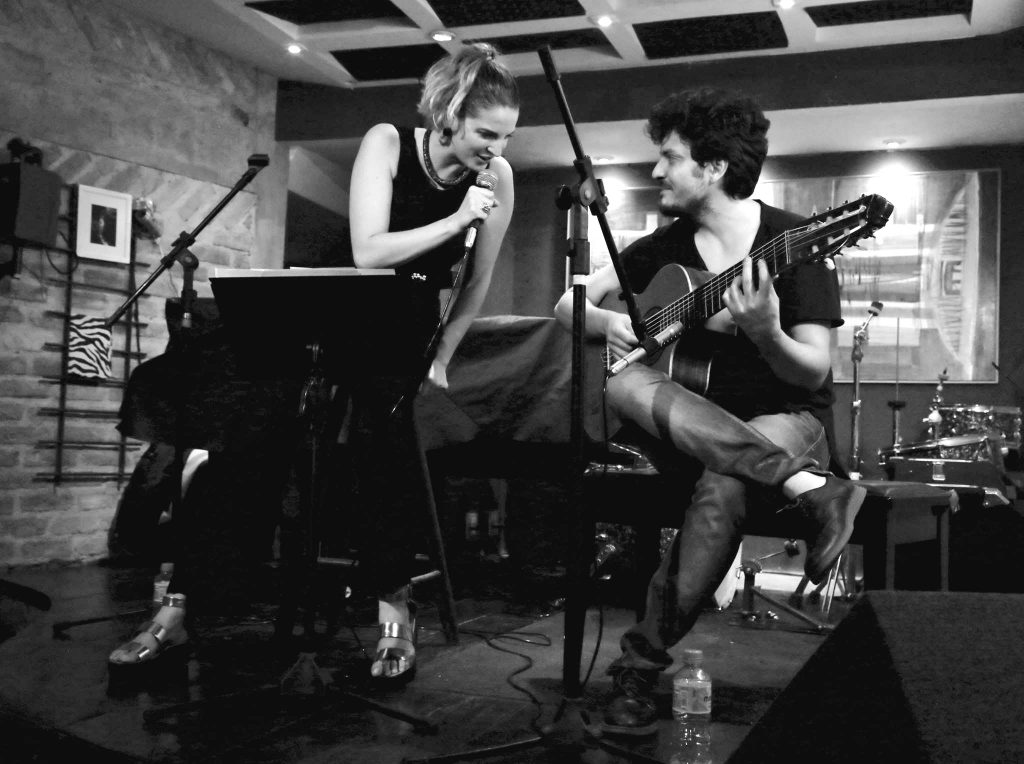 Grazie Wirtti comes with a rich voice and offers a new view on the current interpretation of Brazilian and Latin American music, its rhythms and cultures. With excellency, her voice transcends stylistic boundaries without losing focus of her own territory. Matias Arriazu from Formosa, Argentina is a guitarist, composer, and musical arranger. He is a leading figure in both seven and eight-string guitar, and his compositions have contributed a novel approach to the instrument. Their first album has been produced by Yamandú Costa and includes a special appearance by Milton Nascimento.In June, they shared the stage with the legendary Brazilian musician and composer Egberto Gismonti in Buenos Aires.
July 15th at Salon am Moritzplatz, Oranienstrasse 58, 10969 Berlin-Kreuzberg
Start: 20:00 Uhr.
https://de-de.facebook.com/events/1299205930205694/
Born and raised on the southern border of Brazil, in the city of Santa Maria, Grazie Wirtti began her journey as a singer still a child. Influenced by her father, the traditionalist musician and television presenter Antonio Gringo, she grew up listening to Atahualpa Yupanqui, Mercedes Sosa and Violeta Parra. Wirtti lived in Argentina for three years, which developed and deepened her Latin American repertoire. In 2008, she moved to Rio de Janeiro, as well as her brother Guto Wirtti, bassist and composer and Nina Wirtti, also a singer. She was part of one of the first musical movements of Lapa, in the Commune Semente Bar where she performed with the musicians of the Itiberê Orchestra. Wirtti shared great stages, such as Teatro Ateneo in Buenos Aires, with key names of popular Argentine music like Liliana Herrero, Juan Falu, Aca Seca Trio, Diego Schissi, among others.
At the age of 17, Matias Arriazu won the prestigious festival of Cosquín with his group Policromia. Since then he has been part of music festivals in Argentina, Brazil, Japan and Europe. He shared stage with Argentinean musicians of great stature; Mercedes Sosa, Liliana Herrero, Juan Falú, and Teresa Parodi, among others. In Buenos Aires, Arriazu works together with guitarist, composer and arranger Ernesto Snajer. They released "De dos Argentinos" in 2016, an album with compositions by Ernesto Snajer, highly appreciated and showcased by the Argentinean press. In the same year "Peteî Po" was released, Arriazu's debut solo album. He's preparing an album with his Argentinean duo partner, the singer Cecilia Pahl. Their work emphasizes on contemporary compositions from the region known as the Litoral.